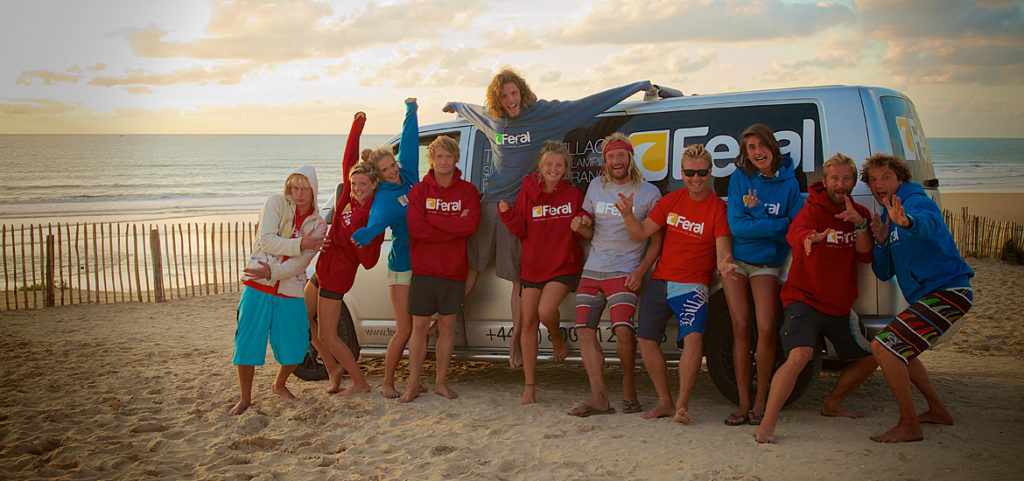 Feral Surf offer surf camps, surf schools and surf holidays in France, Spain, Portugal and the UK. All born from the idea of living the life of a surfer and trying to introduce that culture to people who would otherwise never experience it.
Through our surfing holidays and our Feral Surf philosophy, we see ourselves as your stepping stone to a life of rich experiences through surf and travel. Feral Surf hopes to imbed in all its customers / friends the same passion we have for surfing, travel, and care for our natural environment.
Feral Surf and its family are all well-seasoned travellers, surfers, entertainers and cooks. Between us we have travelled through 40+ different countries, learnt how to appreciate the true meaning of wealth, health and happiness in life.
We have highly experienced Surf Instructors with full accreditation from the International Surfing Association, Australian Surfing Association, Surfing England and Surf Life Saving Great Britain. Our Feral Surf Schools also have full accreditation with Surfing England and the International Surfing Association ensuring our schools adhere to their high standards and best code of practice.
Feral Surf offers daily surf lessons for beginners and intermediate levels, memories and good times for all in France, Portugal, Spain and the UK. When you aren't in the water, we will keep you entertained and not just with beer!
Feral Surf established in 2009 and since then we have strived to provide the perfect breaks and getaways for holiday makers, putting ourselves firmly on the map as one of the best alternative adventure holidays in Europe.
The brand continues to grow and so does our desire to maintain our high standards, challenge our competitors and stay at the top of our game.  
Feral Surf Ltd – Established 2009