The thing with surfers is that they just don't care about anything other than surfing.
I remember I once asked a very serious shaggy blonde haired surfer if there was a power source for me to plug my straightener's in. Safe to say the only answer I got back was a very disgusted facial expression. It was at that moment I realised we were entering a whole new world of Species.
I'm going to take this blog back to last summer when we first popped up on a board.
We has absolutely no idea what to take or what to expect so the phrase "Sod it" swiftly ran through our thoughts.
We filled a gigantic suitcase full of toiletries, clothes, sandals and bikinis and hopped on a plane to France. As soon as the driver (Dave – utter Legend) turned up in the van wearing nothing but boardies and a homemade t shirt no doubt, we quickly discovered that the suitcase had been packed completely wrong. This discovery was then reassured upon arrival at Feral. NO SHOES OR TROUSERS TO BE SEEN.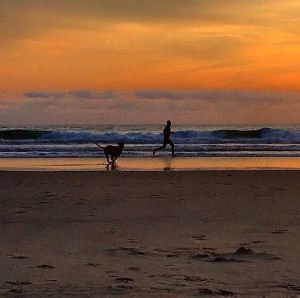 I can only admit that it was the most liberating feeling knowing that we had arrived at a place where you could be no one other than yourself. We had literally found who we really are within about 2 hours of being there. Shoes were 100% a thing of the past and as for the straighteners, well, lets just say they never saw a plug once.
We had been transformed from typical Brits who love the high street fashion to Brits who would never shop regularly again unless it meant buying boards or wetsuits! Maybe that statement is slightly extreme but its true to some extent. We no longer indulge on material things – we have learnt to spend and save wisely for an epic future of travel!
We entered the new world of surf species and left as one of them – life couldn't be better!
We cannot wait to hit the road and get out there, so here's to the Future of happiness and we hope that whatever you do in life makes you as happy as Surfing makes us.
Remember – you only get one chance.
H&K
xXx